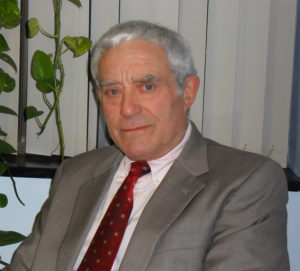 Like many of the patients here at NIHS, my staff and I feel enormous gratitude for the late Dr. Kenneth Blanchard, a true pioneer in endocrinology, specifically in the detection and treatment of hypothyroidism.
Dr. Blanchard recognized that many of his patients showed symptoms consistent with hypothyroidism -- reduced energy, unexplained weight gain, hair loss, depression, sleep disturbance -- even though standard TSH blood tests were normal. He called the failure of mainstream endocrinology to accept and treat these patients' hypothyroidism "the single greatest mistake in the history of medicine."
He also understood that while some of these patients with "hidden" hypothyroidism respond well to T4 -- which the body typically converts into the active hormone T3 -- others do not convert T4 to T3 normally and require a mix of the two to feel better. Dr. Blanchard further recognized links between hypothyroidism and a range of ailments including migraines, PMS, fibromyalgia, IBS, and chronic fatigue syndrome -- and successfully alleviated symptoms for hundreds of patients suffering from these.
Finally, he appreciated the limitations of the standard medications given to patients who do not effectively convert T4 to T3, rendering these treatments ineffective in the long-run for many. Working with experts in compounded pharmaceuticals, Dr. Blanchard developed a set of detailed protocols to customize prescriptions for each patient based on how they reacted to incremental changes in their medication. His work brought substantial relief to more than 1,000 grateful patients over the course of his career, many of whom report, "He gave me my life back."
Dr. Blanchard's work remains controversial among endocrinologists, as it is antithetical to what they were taught in medical school. Many dismiss it outright, despite his clinical results.
Ken Blanchard passed away suddenly in April 2017. In the 16 months immediately preceding his death, he trained Dr. Rachel Katz in his protocols, and invited her to join his practice just six weeks before he died. She is honored to carry forward with his patients and his work, and we dedicate our practice of hypothyroidism treatment to Dr. Kenneth Blanchard and the courage, wisdom, and caring that he had for his patients.
We encourage our new patients to read his book, The Functional Approach to Hypothyroidism. It will make you a more informed partner in the care you receive at Newton Integrative Health Services. We also recommend What Your Doctor May Not Tell You About Hypothyroidism, Dr. Blanchard's first book.